Rolf Disch SolarArchitektur
22 januari 2010
Rolf Disch SolarArchitektur is driven by giving a positive impact on society based on a clear vision of a sustainable and energy efficient future. The office has designed the first Plusenergy Houses ever. The breakthrough came in 1994 with the experimental Heliotrope building. Starting in 2000, the Solar Settlement was built with 50 terraced houses, the Sun Ship office and commercial building with 9 penthouses – all of them Plusenergy buildings. Currently, the office is applying the plusenergy principles to other building typologies, such as larger scale residential multistorey buildings (Berlin, Schallstadt) and industrial architecture (Stuttgart). Also projects in France and Poland are in development. Many of the projects – even the Heliotrope – are timber constructions. Currently, a six storey residential building in solid wood is under construction in Freiburg.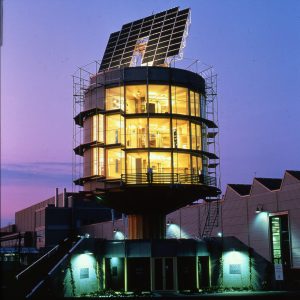 On March 26 senior architect Bert Wasmer will present the vision and some of the main projects of Rolf Disch SolarArchitektur.
This lecture frames in the International masterclass 'Ecological Neighbourhoods' organized by the Faculty of Architecture and arts of Hasselt University. During this masterclass, students develop promising perspectives for Flemish sustainable residential neighbourhoods, based on a designerly exploration of a specific case. With this masterclass, the Faculty of Architecture and arts wants to enhance the uptake of sustainable residential projects in Flanders.
Practical
Lecture by Bert Wasmer in English
Monday 26 March 2018, 20h15
De Nieuwe Zaal Hasselt
Admission: 10 euro and 5 euros for students
Reservations via info@architectuurwijzer.be

Foto Rolf Disch SolarArchitektur