EM2N – Never left indifferent
9 april 2018
In the past 20 years, the internationally renowned architectural firm EM2N has worked on about 250 different projects in Switzerland and abroad. On 15 November, Architectuurwijzer will have the pleasure of receiving architects Mathias Müller and Daniel Niggli at the C-mine cultural centre. They will be giving their vision on collective living and will talk about their rich architectural oeuvre.
Very significant is their prestigious assignment for the 'Citroën Culture Centre' in Brussels. EM2N – together with noAarchitecten (BE) and Sergison Bates (EN) – won the international architecture competition for the transformation of the former 1934 Citroën garage. In addition to a new museum for modern art – Kanal – the programme includes, among other things, the architecture centre CIVA and an auditorium. With a budget of 125 million euros and an area of 39,000 m2, this is one of the largest Brussels projects ever. The start of the work is scheduled for the autumn of 2019 and it will be opening in late 2022.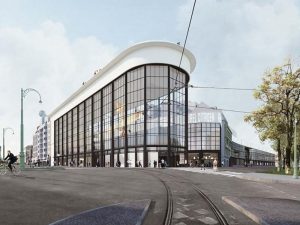 EM2N is co-curator of the exhibition 'Together! The New Architecture of the Collective'. Last year this exhibition was installed in the Vitra Design Museum; this year 'Together!' ran at the CID in Grand-Hornu. The exhibition provides a historical overview of collective residential buildings.
EM2N: "We aim to produce architecture that is powerful and personal, architecture with the capability of developing its own character. As a result our projects may polarize the public, which is fine with us. One may love or hate our architecture, but one should never be left indifferent."
Practical
Lecture Mathias Müller and Daniel Niggli, in English
Thursday November 15th 2018, 20:15
C-mine cultuurcentrum Genk
Admission: 10 euros and 5 euros for students
Reservations via C-mine cultuurcentrum Genk
Partners Assiver, Deltha, cpe, Desso by Tarkett, Vandersanden
Photo EM2N  © Maurice Haas