EM2N – Never left indifferent
15th September 2018
Omwille van hun expertise rond collectief bouwen en wonen, nodigde AW Mathias Müller en Daniel Niggli van het Zwitserse bureau EM2N uit voor een lezing:
Het internationaal vermaarde architectenbureau EM2N heeft in de voorbije 20 jaar aan ongeveer 250 verschillende projecten gewerkt, in en buiten Zwitserland. Op 15 november 2018 delen architecten Mathias Müller en Daniel Niggli hun expertise in C-mine cultuurcentrum. Zij geven hun visie op collectief wonen en vertellen over hun rijk architecturaal oeuvre.
Heel actueel is hun prestigieuze opdracht voor de 'Cultuurpool Citroën' in Brussel. EM2N won – samen met noAarchitecten (BE) en Sergison Bates (EN) – de internationale architectuurwedstrijd voor de transformatie van de voormalige Citroëngarage uit 1934. Naast een nieuw museum voor moderne kunst – Kanal – omvat het programma onder meer architectuurcentrum CIVA en een auditorium. Met een budget van 125 miljoen en een oppervlakte van 39.000 m2 is dit een van de grootste Brusselse projecten ooit. De start van de werken is voorzien voor najaar 2019, opening eind 2022.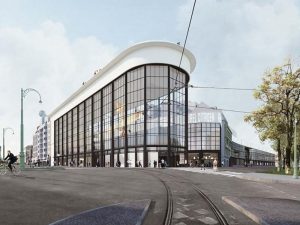 EM2N is mede-curator van de tentoonstelling 'Together! The New Architecture of the Collective'. In 2017 stond deze tentoonstelling opgesteld in het Vitra Design Museum; in 2018 liep 'Together!' in het CID in Grand-Hornu. De tentoonstelling geeft een historisch overzicht van collectieve woongebouwen.
EM2N: "We aim to produce architecture that is powerful and personal, architecture with the capability of developing its own character. As a result our projects may polarize the public, which is fine with us. One may love or hate our architecture, but one should never be left indifferent."
Praktisch
Lezing Mathias Müller en Daniel Niggli in het Engels
Donderdag 15 november 2018, 20u15
C-mine cultuurcentrum Genk, grote zaal
Inkom 10 euro, 5 euro voor studenten
Reserveer je plaats via C-mine cultuurcentrum Genk
Partners Assiver, Deltha, cpe, Desso by Tarkett, Vandersanden
Foto  EM2N  © Maurice Haas